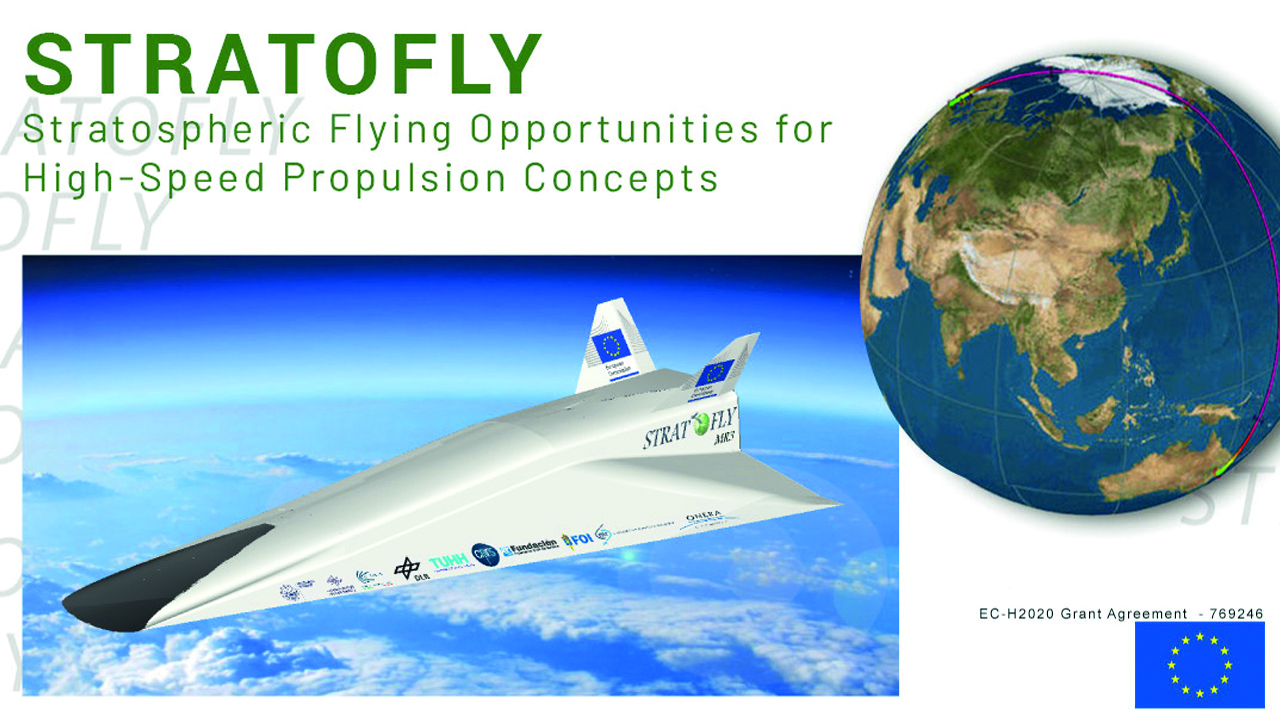 This ONLINE lecture series is part of the STRATOFLY project which has received funding from the European Union's Horizon 2020 research and innovation programme under grant agreement No 769246.
High-speed civil aviation offers vast opportunities for future aerial transportation. Exploration of stratospheric routes can help relieve already congested flight corridors of today.
STRATOFLY project pledged to investigate the outstanding challenges of hypersonic flight at stratospheric altitudes for civilian aviation by taking into account the technological as well as environmental aspects.
In the framework of the project, VKI offers this lecture series to provide a general overview of the high-speed aviation while deep diving the audience into the major aspect including vehicle design and aerodynamics, experimental and numerical modeling of physics governing propulsion system operation and environmental impact of high-speed vehicle fleets. The event brings world renown experts in their fields under the unique umbrella of VKI lecture series for this 3-day event.
Programme
Tuesday 25/05/2021: Vehicle technologies
08:00 – 08:15 Welcome address
08:15 – 09:30 Hypersonic vehicle design challenges
Dr. Kevin Bowcutt, Boeing, USA
09:30 – 10:00 Coffee Break
10:00 – 11:15 Hypersonic vehicle design, integration and optimization
Dr. Kevin Bowcutt, Boeing, USA
11:15 – 12:45 Lunch Break
12:45 – 14:00 On-board subsystems design for high-speed aircraft
Prof. Nicole Viola, POLITO, Italy
14:00 – 14:30 Coffee Break
14:30 – 15:45 Aerodynamic and aerothermodynamic challenges for the design of a hypersonic civil transport
Dr. Marco Marini & Dr. Pietro Roncioni, CIRA, Italy (To be confirmed)
15:45 – 16:00 Closing of the first day
Wednesday 26/05/2021: Scramjet technologies and emissions
09:05 – 09:15 Welcome address for the 2nd day
09:15 – 10:30 Supersonic turbulent combustion physics - a challenge for numerical modelling
Prof. Christer Fureby, LTH, Sweden
10:30 – 11:00 Coffee Break
11:00 – 12:15 Experimental investigations on hypersonic combustion in a large-scale high enthalpy short duration facility
Dr. Jan Martinez Schramm, DLR, Germany
12:15 – 13:45 Lunch Break
13:45 – 15:00 Scramjet flameholder dynamics: the controlling processes from ignition to stable burning
Dr. Timothy Ombrello, AFRL, USA
15:00 – 15:30 Coffee Break
15:30 – 16:45 Challenges in hypersonic propulsion – modeling unstart, flameout and thermal load operability limits
Prof. James Driscoll, UMich, USA
16:45 – 17:00 Closing of the second day
Thursday 27/05/2021: Noise and environmental impact
09:05 – 09:15 Welcome address for the 3rd day
09:15 – 10:30 Impact of a fleet of hypersonic aircraft on atmospheric composition
Dr. Didier Hauglustaine, CNRS, France
10:30 – 11:00 Coffee Break
11:00 – 12:15 Climate impact of hypersonic aviation
Prof. Volker Grewe, DLR, Germany / TU Delft, the Netherlands
12:15 – 13:45 Lunch Break
13:45 – 15:00 Supersonic Jet Noise Phenomena and Crackle
Dr. Charles Tinney, UT Austin, USA and Prof. Woutijn J. Baars, TU Delft, The Netherlands
15:00 – 15:30 Coffee Break
15:30 – 16:45 Johan Steelant, ESA (to be confirmed)
Topic: European journal for hypersonic civilian aviation
16:45 – 17:00 Closing of the lecture series